Ecommerce Website Design
Traditional retail store owners open the first store, and as time passes and the community grows, the store feels limited in scope and impact. Instead of seeking another brick and mortar location, consider reaching new markets and growing sales by engaging an e-commerce website design company. An e-commerce website differs from an information website because the software within site performs all the functions necessary to support sales, including inventory tracking, product information dissemination, shipping orders, handling returns, and supporting back-office functions.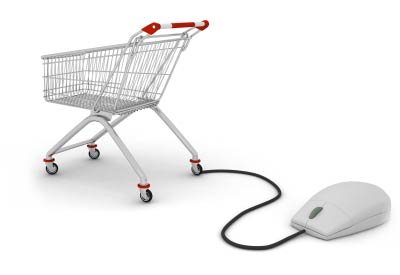 Whether the business seeking an e-commerce-capable website sells goods on the wholesale or retail markets, accurate tracking of the inventory is essential. If a storefront complements the website, accurate inventory information will allow the buyers to keep adequate inventory levels while minimizing stagnant quantities of items that do not sell. The website page that shows the customer the quantity of a certain item in stock will increase sales, but that number must reflect the physical inventory on the shelf. Point of sale computers must update sales information while the website refers to the inventory database. The website can trigger reports to warn of low inventory levels of popular items.
Customers love to browse and find all the necessary information about a product before deciding to purchase. The e-commerce website design must include detailed product information with exact pictures of the products that will be shipped. Even brand differences can cause customer dissatisfaction when an unexpected item arrives. Multiple pictures from various angles assure the customer that what is ordered will be the item shown. A website that provides substantial information builds trust with customers and draws repeat sales. Virtual shopping cart options can be controlled to allow items to be bookmarked for future purchases without impacting inventory levels. Sales do increase when wish lists and saved shopping lists are retained under customer accounts.
When loading product information into the product database, a business decision must be made concerning shipping charges. Perform sufficient research into the largest websites that ship products of all types, review their shipping rates, and then decide what shipping protocol works best for your business. Many sales are lost because of exorbitant shipping fees. Flat rate fees give the customer an idea of what to expect when creating an order. Small orders will generate a small margin of profit on shipping charges, where large orders will have to make up that margin in product costs. Free shipping is not really free, and product prices will have to be adjusted to cover those charges. Two price structures would be hard to maintain between the storefront business and the eCommerce business. Whichever policy you choose, make sure to advertise your shipping charges openly and be consistent. Major shipping carriers provide updated shipping information referenced on your order screen within the eCommerce website. Shipping contracts can reduce costs by grouping packages. Use more than one carrier, so the delivery people sense some healthy competition. Track customer complaints and address shipping issues immediately to protect your valuable customers and their satisfaction.
Returns are inevitable in the eCommerce business and can be very expensive to the business's reputation and profit margin if the return process is not handled efficiently. The entire sales process must happen in reverse to receive the product back from the shipper, update inventories, return defective products to manufacturers, and credit the customer's account while asking for a vendor refund or replacement. Then the sales process must be executed again to replace the product for your customer. Within all these physical processes, costs must be tracked and reported to identify areas that must be addressed and improved. Your ability to handle returns gracefully can win repeat sales and loyal customers. The intricacy of this process requires an employee that loves details and juggling multiple tasks. Dedicate at least one employee to handling all your returns.
The best time to engage an eCommerce website design company is when your business is growing and operating cash is available. Additional employees will be required to handle all the activities that will be generated by the website. Higher inventory levels of the right products will be required to keep both business aspects running smoothly and the customers happy. Sales, inventory, accounts receivable and accounts payable information must be monitored separately for the storefront and the eCommerce website at first to monitor growth and any challenges that arise. Sometimes a business process will break in the storefront because of the eCommerce website's addition, and the back office reports will reveal the problem.
When your business must expand to handle a larger customer base, gather some input from the people who can provide the expertise to design and build an effective eCommerce website. The days of assembling a simple website have passed, and the importance of your image on the web can grow your business in ways you never imagined. Speak with your current employees and ask for an interest in working on the project. The eCommerce website design company begins to define the business needs and the parameters of the project. Both portions of your company must be equally important to you to expand to yield a strong return on the investment.